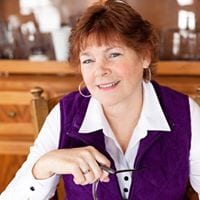 Writing, being an author, wasn't something I took seriously until one day I realized I continued to form a series of stories in my head. What was I doing? I didn't have time or the inclination to sit down and write a novel. I had three kids which meant I was a sports mom, a good cheerleader and short-order cook. There was no internet then, no easy way to sit down and write. And a historical? Come on! I had uniforms to wash, food to put on the table and a schedule to maintain. Writing was out of the question.
The tug to write wouldn't go away. I ignored it. I pretended I didn't have characters in my head doing things I made up. I sat on bleachers watching games and other parents, all the time wondering…what are they thinking about? Are they back in the 1800s working out the problems of a frontier woman?
My Being Inspired page is a reminder for me and perhaps inspiration for you to simply start. Start and see what happens. When I went back to school, most of my professors called me, 'mother of three.' They encouraged me to step out and see what I could do. My English professor decided I needed to enter their yearly contest for aspiring writers. One went so far as to hand me the form. As simple as those days were, they nudged me to keep going. And I did, at a piddly pace.
My first novel wasn't published until my youngest was out of college. Something I started in the 1980s came to fruition in 2004. Procrastination is the only answer I have for such slow progress.
One of my favorite jobs over the years has been the Youth Director at our local library. I have enjoyed running programs and watching kids grow excited about reading. It's been a fascinating time for me for seventeen years. This summer I retired, and I still miss the chaos, the high-energy of the events we had. Oh, the stories I would write for children…maybe soon!
I have my own chaos too, in the name of grandkids. They are an ever source of fun and craziness. We are a rowdy bunch and I take great pride being an influence in their lives. Our grandson Colton won a writing award in kindergarten. He asked me to go with him to the writers' conference for kids. He could only take one person, and he asked me. So, my cheerleading days continue…which energizes me to continue on my path as a writer.
Watch for my new sci-fi series. A romance with quirky characters and a fast-paced plot.
This is a story I simply could not put down! Every morning I was up at the crack of dawn jumping headlong into the past. I'm not a lover of history, for history's sake, but I love a good story! And with this book, you get both. I felt as if I was right there with the heroine, actually living the events as they unfolded. I was moved to tears by the twists and turns in the lives of the Douglas family, and felt the tremendous emotions as the two cultures collided. I did not want this story to end!
Review for Memories Trail, by DL Larson
Reviewed by Sandy Webber, reader
Annie and Joe Douglas started life like most newlyweds, in love and with commitments to each other. But Joe had a stronger commitment to gambling and drinking than he ever had to Annie. Ignoring his family was a way of life for Joe. He knew that if he didn't get his act together he was going to lose Annie; he knew that an eye-catching woman like Annie could easily attract other men and Derek wanted her. Derek was willing to love her and her children. Annie was lonely and Joe wasn't home much, so it was easy for her to love Derek but she'd made a commitment to Joe. Was she strong enough to pull her marriage back together, to deal with an angry lover and a despondent husband?
Christine had a beautiful home, large and so formally furnished that it seemed cold. She loved Francis when she married him. But she wanted a home that could be lived in and a husband who would love her back as intensely as she loved him. When she found out that Francis was using a prostitute she was devastated; he rarely touched her and yet he would turn to Ruby at the saloon to meet his physical needs. After being apart the two attempt to put the pieces of their marriage back together But Francis had a deep secret, one he was afraid to share with anyone, even Christine; a secret that was destroying their marriage, a secret that was destroying him.
"Promises to Keep," by D.L. Larson, is a story that will touch your heart. Annie and Christine are strong women, women who do not take commitment lightly. Larson is a talented writer. The story flows smoothly; intertwining the lives of these two women. I felt I knew these two women intimately. There was one part that bothered me -- knowing the secret, how could Francis take the chance of exposing his son to what he suffered. But it was a different era. I recommend "Promises to Keep" to those that enjoy fiction, drama and romance.
Midwest Book Review of Promises To Keep
'…Promises To Keep is the story of life, good and bad, its challenges and the hope of new beginnings. Excellent read.'
Review for Promises To Keep, by DL Larson
Reviewed by Debra Gaynor for Reader Views
This is one of those books that is not a simple book to review. This is an extremely complicated book with much depth, pathos, and true family grit. This is a continuation of a previous story (which I have not read), and I do feel like that hampered my true enjoyment of this novel. But patience does pay off where this book is concerned, and I was rewarded with a story that truly touched my heart and reminded me of what is important in families and life.
No matter what your take on the story or book, you can be assured to come out the other end of this story with the following conclusion: "Life is precious, and nothing is too dark to make the conscious decision to end it all." The author does an excellent job at illustrating her point through and amazing story of family, tragedy, and true love.
Reader's View
Review of Promises My Love, by DL Larson
'…this story will touch your heart. Annie and Christine are strong women, who do not take commitment lightly…I felt I knew these two women intimately…Larson is a talented writer.'
Review of Promises My Love, by DL Larson
Reviewed by Ruth A. Hill